Laura Recommends: Ward Thomas - It's Not Just Me
Today marks two weeks until my favourite Country-Pop music duo Ward Thomas release their much anticipated and long awaited third studio album 'Restless Minds'.  
The powerful record which touches on important issues such as mental health, social media and the woman's movement will be dropping on Friday, February 8th and promises to be on of the most important musical releases of our generation.  
And today Catherine and Lizzy released yet another powerful and inspirational track off the forthcoming LP. Following hits such as 'Never Know', 'Lie Like Me' and most recently 'No Filter', 'It's Not Just Me' is a track that focuses on how we often feel like we are alone in our own problems. 
Lyrics such as the opening line "every morning I wake up and I feel like I've run a million miles coz my restless mind keeps me up at night" will no doubt strike a chord with many listeners across the world.  
Lyrically I don't think there has ever been a more relatable song for the Millennial generation before. It has such strong words about what we all feel like at some point and it's such a relief to hear that you're not alone in these feelings, it is in fact "not just me". 
I actually heard this track for the first time back in December 2017 during Ward Thomas' Christmas gig in Guildford and the powerful lyrics struck an instant chord with me. In fact it hit home so much that after hearing the song just once I decided to have 'It's Not Just Me' tattooed on my ribs as a constant reminder.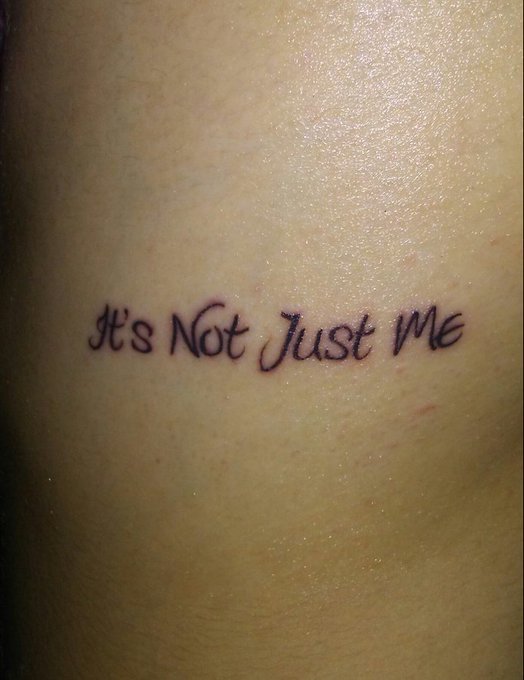 'It's Not Just Me' is an important song and is one of Ward Thomas' most impressive releases to date. 
So, if you're looking for some new music to listen to this week look no further than this amazing track. You will not be disappointed.